SPACE COAST INN LODGING
Bldg 720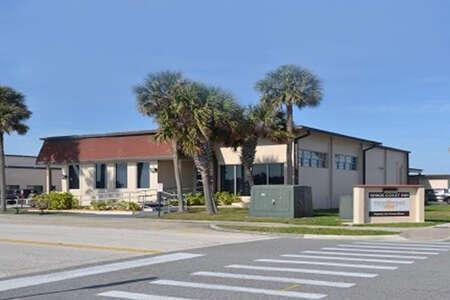 Front Desk/Reservations: 321-494-6590/6591
Housekeeping: 321-494-2097/3669/66571
Maintenance:
321-494-2082
---
MISSION STATEMENT: The Space Coast Inn provides lodging excellence in support of the Space Launch Delta 45 readiness and peacetime mission.
VISION: Lodging professionals providing world class accommodations for active, reserve and retired military and their families.
All lodging rooms have refrigerators, microwaves, free WiFi, cable TV, DVD players, coffee makers and free self-serve laundry facilities on site.
Foreign Visitors: Please contact our Foreign Visitor's Office at (321) 494-8563 prior to making reservations. Room charges must be paid in advance at check-in with cash, check or a valid credit card. LODGING RESERVATIONS CANNOT BE MADE THROUGH THIS WEBSITE.
We're Pet-Friendly! We offer four (4) pet-friendly family units located on Hwy A1A south of The Tides. Priority is given to active duty members on official travel. However, Space A guests can also bring pets. Rottweilers, Pit Bull terriers, snakes and other exotic pets are not permitted in these quarters. Pets must be caged inside unit when guests are not in the room. Pet cages and litter boxes are provided.
ROOM TYPE/Rate Per Night
SEASONAL: OCT - JAN, APR - SEP
Visiting Officer Quarters (VOQ) / Visiting Quarters (VQs) $130
Visiting Airman Quarters (VAQs) $115
Temporary Lodging Facilities $139
Distinguished VVQs (DVQs) $139
Large Distinguished VQs (GOQs) $140
SEASONAL: FEB - MAR
Visiting Officer Quarters (VOQ) / Visiting Quarters (VQs) $150
Visiting Airman Quarters (VAQs) $130
Temporary Lodging Facilities $162
Distinguished VVQs (DVQs) $159
Large Distinguished VQs (GOQs) $160
Note: Pet fees are $10 per night plus the room rate. Note: Lodging guests may be directed to vacate rooms to support higher, short-notice mission requirements as determined by the installation commander.
For local hotels, all official travel must go through the Space Coast Inn to obtain a non-availability form.
Free High Speed Wi-Fi is available in all lodging rooms
The Space Coast Inn offers free High Speed Wireless internet in all lodging guest rooms and the main lobby. In addition, lodging boasts new state-of-the-art phone systems with full communications capabilities, including a "Mass Alert" notification option to notify all lodging guests in the event of an emergency.
TLF
TLFs have additional amenities including full kitchens with full-size refrigerator, full-size stove, full-size dishwasher, and a stackable washer/dryer. Housekeeping services are provided daily. A few TLFs are pet friendly and will require an additional $10 daily pet service fee. Shot records and pet identification are required at check-in.
For your protection and comfort, and that of other lodging guests, you are reminded that certain buildings and rooms do not allow children and/or pets. Guests with pets or children in unauthorized areas will be assessed additional fees and may be asked to vacate.
FSS FACILITIES
The Riverside Dining Facility (base dining hall) is open to all guests and their families with a DoD ID card. Normal operating hours are 6:30 am - 6:30 pm but are subject to change. Other on-site Force Support Squadron activities include Shark Lanes (Bowling and Café), Marina, The Community Bistro, Golf Course (Golf, Hackers Café, Pro Shop), Fitness & Sports Center, Information Tickets & Travel, The Tides Collocated Club, and Outdoor Recreation.
AVAILABILITY
Temp Lodging Facilities - 1, 2 & 3 bedroom family units, Visiting Quarters, Visiting Airmen Quarters, DV Quarters (General/Flag Officers/Civ Equivalents)
LODGING SPACE A (LEISURE TRAVEL) RESERVATIONS
SUNDRIES: Sundry items (snacks, beverages, and microwave meals) are provided in some rooms. They are "pay per usage" items, and are inventoried daily. Any items used are posted to your room account. If the items are not stocked according to the inventory sheet in your room, please advise the front desk immediately. Lodging guests may purchase snacks, beverages and microwave Heat-and-Eat entrees at the lodging front desk 24 hours a day. Free coffee, tea and hot chocolate are also available, along with free wireless access and free computers for use by registered guests.
AMENITIES: Amenities (soap, shampoo, etc.) are provided free of charge upon check-in. Coffee, tea and condiments are provided and replenished daily, or as needed for all visiting officer and enlisted quarters. For TLF facilities, coffee and tea are provided at check-in only. Amenity and cosmetic items are available for purchase at the front desk.
PERSONAL MAIL: Military personnel on TDY or in PCS status to Patrick SFB who want to receive personal mail, should go to the Postal Service Center, bldg. 424 or call 321-494-8740 and inquire about getting a mailbox. Personal mail cannot be delivered through the 45th Force Support Squadron. Other commercial couriers such as Fed Ex, UPS, Emory, etc., can also deliver packages to the Postal Service Center. If there are any questions, please call the PSFB official mail manager at 321-494-4195.